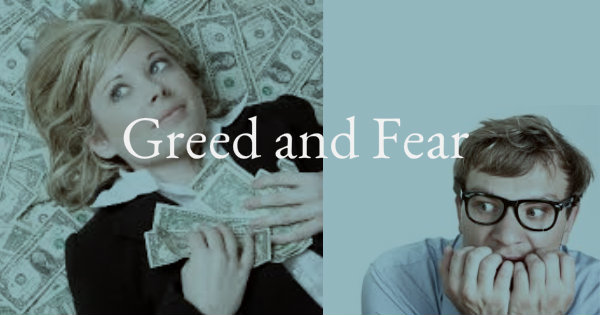 The two words that are important to notice but unimportant to consider in trading are greedy and fear. It should be kept in a balancing mode for an accurate and efficient trading ahead. In my experience greediness is more complex than fear. There are some cases arising in a particular point then we cannot predict it. Because in trading we should have a keenly mind for every moment, because it is a brain work activity we never get anything by holding hands and relax while trading. You have to put some effort to attain a safe position in trading.
There is an old saying on that the market is driven by just two emotions fear and greed. It can often be true. There is lots of such dramatic emotion that are held in your mind. They are driven you to make disappointment while trading. So you have to aware about that and make a control system in your mind for better results while trading. Those emotions are broadly enlarged in your mind then you can never done anything properly it is very easy to drive such condition in your mind by your own strategies. Some traders are mostly suffered by these conditions.
Because of fear they do not put stop loss properly. And another case is some traders do not put targets these indicates there both mental behavior. And there is lesson for all the traders that are each trader must have a disciplined manner. You have to put your stop loss and target in a correct and accurate preposition so you can handle your trader very well.
The two feelings that are explained in detailed below. First explain about greediness
When you get small small profit initially the emotion greed that slept inside you wake up and start playing the game. It is an unavoidable emotion inside all of us. We are longing for excess things, traders are longing especially for excess wealth.
When a trader is getting greedy he does not take profit at predefined targets and expecting more they wait for more. This is not an appropriate practice for a disciplined trader. By doing so most of the times trades may come against  and either the entire profit are wash out or the trade becomes negative. Besides this sometimes greed also breeds fear.
You have the responsibility for your gains or losses because you are the final decision-maker of your portfolio. First try to control your emotions whether it is greed or fear and try to stick on to sound investment decisions. For a successful trading and maintaining your long-term strategy not following blindly market sentiment. But beware: never approach trade in dual mind with high emotions which leads you failure.
Apparent danger or threat induced the feeling fear. As a result an ultimate change in behavior may occur. The fear of loss in trading hampers your performance. The actions done by traders due to fear are missed best opportunities many a times and exit from a trade too early. When market approaches the stop loss level you get out before stop loss level hit based on the fear factor order. Only practice can make you perfect and there is nothing wrong in it. But for perfect managing of fear and greed years of practice would be needed.
The greatest emotion that can make a huge impact on trading is fear. During trading period trader faces fear of loss, fear of being incorrect etc. But as a trader keep away this kind of unnecessary emotions and learn to be neutral at all time. That means, not to get too happy when you earn profit and not to get too sad when you have a loss. Just remains in neutral. It is easier to say difficult to done of course.
First teach your mind that not to be panic whenever you face loss because losses are part of the exciting world of trading. Think of this when you are trading and protect yourself with correct stop loss orders. The two possible outcomes in trading are win or loss. If you failed in one trade it pull you back from taking another good trade. This happened just because of your fear. So adapt a positive psychological approach such as stick on your initial plan. It will remove fear of taking good trade.
Patience is also essential in trading. Don't try to over trade. There are thousands of opportunities present in the market. So wait for your turn. And take a positive attitude towards trade. Market will not go in the direction that you want it to. Just accept the outcome of your trade.
Greed also changes your way of thinking just like fear. First know yourself it is a key point for successful trading. Only if you learn to control your inner emotions you can make lots and lots of money in the market.
I am hereby giving very simple techniques for every day practice for a trader. Before getting into real trade practice this everyday. In fact, this is a brain exercise to improve your cognitive functionality. First, select a quite environment for doing this exercise sit there in a relaxed position and do simple breathing. concentrate your breathing by closing your eyes. Just feel your breathing. Try to do these techniques for 3 to 5 minutes. Now keep your eyes closed and think about your favourite scrip and that in your favourite time frame gives you good profit with the help of reliable setup such as triangle setup; a flag; or a moving average setup.
Now your mind is in relaxed state so you can move on to the second step. In the second step do imaginary trade with your favourite setup and imagine that you win two times in your trade. Now your brain is trained to take profits at predefined targets so this is the right time for real trade. the advantage of above exercise is you will be able to manage a profitable trade in real life.
Repeat the exercise twice for each setup. by doing this exercise regularly you can overcome your fear of loss. Fear of loss is dangerous than fear of greed. Practice this brain exercise regularly in the evening or in the morning. Not do it during market hours. If this help you to overpowering your fear and greed you can gradually improve your trading. Keep this in mind " You cannot change the world in a single night" . So don't expect extraordinary result in short period.
Accurate trading system support your trading well. but how?